Hickory Haven Listening Project
1/17/2018
Listening Project in Hickory Haven
In the last half of 2017 we undertook a listening project in Hickory Haven, a small housing development in Goochland County, Virginia nearby Richmond, Virginia. This neighborhood is located in the eastern part of Goochland County a mile from our church facility. We wanted to get to know these neighbors as well as their hopes and dreams for their neighborhood. We began a listening project using asset based community development practices which we had learned from Embrace Richmond.
The vicar of St. Francis, The Rev. John Maher, directed this project. These are the steps we took for this task:
June 2017
Identify young people who would serve as interviewers

Identify mentors from St. Francis

Meet a person of peace in Hickory Haven who would open doors to others in the

neighborhood

Meet a "minster of introduction"who who introduce the interviewers to the neighbors

Our goal was to recruit five young people as interviewers. We were only able to recruit one. There was only one high school student living in Hickory Have who already had a summer internship. The rector of a neighboring parish has a son, Hollis Cobb, who was very interested in doing the interviews. He could start immediately and turned out to be an exceptional interviewer who found it easy to establish rapport with anyone of any age.

In July I met Pete and Joyce Gregory. Pete refers to himself as the "Mayor of Hickory Haven." They welcomed me into their home and I visited them often. We talked about the neighborhood and community. They suggested people who would like to be interviewed and who might serve as a "minister of introduction."

In September we began the interview process. Betty Hodges, a resident of Hickory Haven, served as a minster of introduction." She introduced Hollis to the neighbors she knew and went with him to neighbors she did not know. Almost half of the forty households of Hickory Haven were interviewed. We had a good idea of what this neighborhood was like and what the dreams of the residents were.

The interviews were held on Saturdays. Hollis and Betty met at 10:00am to plan the calls. They tried to do four each Saturday. Hollis used a Neighborhood Strengths Survey for each interview. At the end of the interview they met with me to process the experience together. One of our main goals was to see if we could name the dream of each person interviewed. For that we used a Dream Profile. From those profiles we created a Dream Board on which we posted the dreams of the neighborhood. As the interviews continued we were able to cluster some of the dreams together into categories.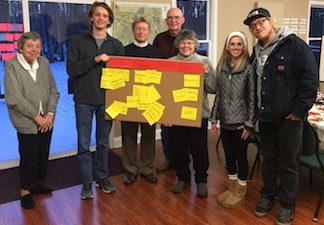 At the end of November we invited everyone who was interviewed to a neighborhood celebration. The purposes of that gathering were to celebrate the experience, see the collected dreams of the neighborhood and how some of them overlapped, to map the gifts of those present, and to see if there could be an action team formed to carry out at least one of the dream clusters. We had five residents attend- less than we had hoped. However, they were ready to go. They listened to Hollis share about the the interviews and what he learned of the neighborhood. They did the head/hands/heart gifts exercise and were very impressed. They took in the clusters of dreams as we had them on the dream board. They settled on one area to work on- developing a common area for the neighborhood. They want to start with some regular neighborhood get-togethers and they formed a team to work on organizing these efforts. They will be inviting others from the neighborhood to work on the team if they are interested. For now they are meeting at St. Francis for the team meetings. It was a great celebration!
What We Learned
People want to be encouraged and empowered for the good of their neighbors.

A "person of peace" and a "minister of introduction" are essential members of the team.

They cannot really be members of the church. Rather they must be solid neighbors in the

neighborhood.

The quality of the interviewer is of the greatest importance- without Hollis's relational skill

and desire to hear people's stories, this would have not gone well at all.

The focus of the celebration on getting an action team going is essential to the further

development of the neighborhood.
What we learned about Hickory Haven
Most of the residents love living there

Many of them have skills that would be of help to others in the neighborhood and they are

willing to share them

The residents are ready for the changes that are coming to their community. This 40 house

development that is almost sixty years old is about to be overshadowed by a 350 house development right next to it. They are ready to welcome the changes and remain a welcoming neighborhood.
What Churches Can Learn
The lead person, especially if it is the pastor, must successfully communicate that this project

is so that the church can be a better neighbor and friend to those who live nearby, and it is

not for increasing the membership of the church.

Listening to the stories and dreams of the people will show church members where God is

already at work in the neighborhoods nearby their church facility.

There are members who who may not be in any church programs but are ready to listen

carefully to the neighbors and to lead the way in the church being able to be a friend and good neighbor to those who live nearby.
The following tools and assessments were adapted by Embrace Richmond and are used with permission.
Five Question Neighborhood Survey
How long have you lived in this neighborhood?
What do you value the most about this neighborhood?
If you had the means to do anything you wanted here what would you add to this neighborhood?
If others care about the same things you care about, can we count on you to join in?
Who else do you know who cares about what you care about?
Dreamer Profile
This tool is used to help us visually capture the gifts, talents and dreams of our neighbors so that others will learn about and hopefully want to join in the project.
Who is this person?​ What roles does this person fill? (Work, family, school, community)
2. Gifts:​ From the interview questions what gifts did you see demonstrated by your interviewee?​(Remember head, hands, heart)
3. Dream Statement:​ In one sentence how would you summarize the dream this person has for the community?
4. Images: What images come to mind when you think of your interviewee? Their face, their family, house, animal, garden, dream….etc.
5. Connections:​ What associations, organizations and individuals is your interviewee connected to?
Gifts Assessment: Gifts of the Head, the Heart, and the Hands
At the Neighborhood Celebration have the participants write on three separate post-it notes the gifts of their head (things they know, sample a foreign language, a area of study, etc.). On three more post it notes write one gift of their heart on each (things they are passionate about such as hunger eradication, dealing with drug addiction, training young people for future jobs, etc.). On each of three more post it notes write one gift of their hands (such as carpentry, playing a musical instrument, computer programming, etc.).
Have each person post their gifts on a wall and share what those gifts are.
This will demonstrate the large number of very strong gifts that are present in the neighborhood which can be shared with others.
---
1/10/2018
All Together--newsletter
«
previous
1/17/2018
Going--News Letter
next
»